Share This Article:
The magnificent San Sebastian Church towering all magnificent iron structure fit to b a center of God's influence.

Photo Courtesy of: www.imagesphilippines.com (Jun Tomboc Taboga)

THE SAN SEBASTIAN CHURCH -- GUSTAVE EIFFEL'S CHURCH IN THE PHILIPPINES

by: Findelle de Jesus
Just recently, I was trying too hard to identify a place with unique features that is not only worthy of admiring but also considered artistic. Then I asked myself, "What place has not been much written but holds of great significance?" I was bothered, staring blankly at nothing until my father offered me this-- "Why bother go far? Try considering the San Sebastian Church." Then I asked him, "What's with it?" My father then replied, "Well, It's just sad that many people didn't know that the San Sebastian Church is the only Gothic church ever built in the Philippines - or perhaps, in the whole of Asia. If only for that, it is worth visiting." I got excited by the idea of writing about this historical landmark and before any books can be used for my reference I asked my father to share his knowledge of San Sebastian. And with this he said, "Despite the discrepancies in the dates of its founding, the San Sebastian Church is the only steel church in Asia built in the late 18th century. It should have celebrated its centennial around 1991. Yet, it seems that not even the Catholic administration paid any interest in its historical significance nor in the fact that it was Alexander Gustave Eiffel who designed it." After this enlightening conversation with my father, I felt the need to research more about this, and maybe, to know the story that lies within this church.
Alexander Gustave Eiffel was the only man in Europe famous not only for the defining symbol of the Eiffel Tower but also for exporting knockdown steel churches in Latin America. He was a great engineer who also designed bridges, transported to their sites piece by piece, and assembled it like a Lego set. Eiffel was also the one who designed the metal structure of the Statue of Liberty.
Ambeth Ocampo, a Filipino historian and writer, once wrote that the story of San Sebastian Church began when Chinese-American, I.M. Pei, visited the Philippines in the late 70's. He came to confirm of a news he has heard that Gustave Eiffel designed a steel church in Asia. Inspecting the church, he later declared that the metal fixtures and the overall structure were no less designed by Gustave Eiffel.
The Order of the Agustinian Recollect (OAR) Parishes Manual cited that the San Sebastian church "is the first all-iron church in the world, the first iron edifice in Asia and the second in the world after Eiffle Tower." It has its beginnings in 1621 when Don Bernardino Castillo, a generous patron and a well-known devotee of San Sebastian donated his lot for the dream of having a steel church in Asia become a reality. The original church, which was made of wood, was burned in 1651 during a Chinese uprising. The succeeding structures were destroyed by fire and an earthquake in 1859, 1863, and, 1880 destroyed the imposing stone of the church. The exasperated parish priest, Fr. Esteban Martinez approached the Spanish Architect Genero Palacios with a plan to build a fire and earthquake-resistant church made entirely of steel. Ambeth Ocampo states that the present San Sebastian church was ordered knockdown in steel parts from the "Societe Anonime des Enterprises de Travaux Publiques in Brussels, Belgium. The Societe cast all the parts and shipped them piece by piece to Manila, (as what Eiffel did in most of his designs). Two Belgian engineers supervised the construction of the church which was later completed and inaugurated in 1891.
However, the catalogues of Gustave Eiffel's work and the list of the designs and exportation of the church in Manila, Philippines gives 1875 as its date runs counter to the National Historical Institute date of 1891. In any case, it is certain that Eiffel designed the metal structure of the church and it is strongly possible that the Spanish Architect Palacios was the one who designed the San Sebastian Church.
We may not have an Eiffel Tower nor a Statue of Liberty which is famous in all the works of Gustave Eiffel. But look around here in the Metropolitan Manila Area, and you will see landmarks that are significant, unique, and truly a treasure of the arts-- the San Sebastian Church.
(Findelle de Jesus is a graphic designer by profession. She graduated with a degree in Fine Arts from the Far Eastern University. Her article was inspired by her love for history, arts, and architecture.)
Recent Articles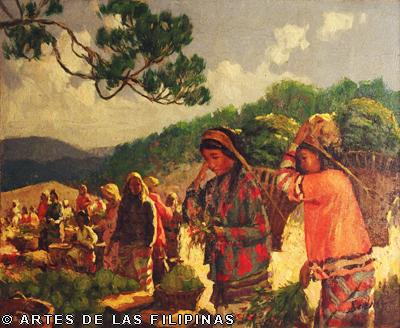 Serafin Serna's Traces of Greatness
May 2013--Serafin Serna was in his senior year when World War II broke out. He was studying at the University of the Philippines School of Fine Arts where he learned the fundamentals...
A Critical Essay on Constructing the Filipina: A History of Women's Magazines (1891-2002)
April 2013-
-Constructing the Filipina: A History of Women's Magazines from 1891-2002 by Georgina Reyes Encanto is a first attempt to record the history of Women's magazines...
Controversial Caravaggio to be unveiled in London
March 2013
--Mahon bought The Cardsharps for £50,400 (est £20,000-£30,000) when it came up for auction at Sotheby's, London in 2006, ascribed to a 17th-century...
Stuttgart museum returns looted medieval masterpiece
March 2013
--The Staatsgalerie Stuttgart has returned Virgin and Child, a 15th-century painting attributed to the Master of Flémalle (1375-1444), to the estate of Max Stern...
Jose Zabala Santos (1911-1985)
March 2013
--Jose Zabala Santos or "Mang Pepe" to his neighbors in Kuatro Kantos, Malabon, was born in Calumpit, Bulacan on July 20, 1911. He acquired his early drawing...
Lucian Freud Says Thank You to the Nation with a Corot Painting
February 2013
--The late artist Lucian Freud has left a treasured painting by Jean-Baptiste Camille Corot as a thank you to Great Britain for welcoming his family when they arrived...
Silay's Ancestral Houses: The Glory of the Past
January 2013--A physical structure has no significance to the community if it does not have corresponding stories that help shape the people surrounding it. This reason has contributed...
How to turn a manuscript into a bestseller
November 2012
--Editors today generally spend less time in editing because time is money. This is the observation that novelist Ken Spillman gave at a panel discussion on "Uncut...
Lenore Lim's Liberation of Colors
November-December 2012--Lenore Lim burst upon the art scene in 1968 after graduating from the UP College of Fine Arts where she was a student of Jose Joya, Carlos Valino, Larry Alcala...
Unique Tombs found in the Philippines
MANILA, Philippines — Archaeologists have unearthed remnants of what they believe is a 1,000-year-old village on a jungle-covered mountaintop in the Philippines with limestone...